St Stephen's Steps, off Bandra's Mount Mary Road, occupies prime real estate in Mumbai. A few years ago, it was a derelict slope, but this strip of no man's land, squashed between towering apartment buildings, is now a striking example of good design, urban planning, and collaboration between an architectural studio and government body. The Steps — as the site has come to be known since its opening last year — is the brainchild of Bombay Greenway, the pro-bono research and urban design arm of Abraham John Architects, helmed by architect Alan Abraham and interior and landscape designer Anca Abraham.
Mumbai, as a city, is one that's constantly gasping for public spaces. "Whether you're rich or poor, you need good air," says Alan Abraham, "you need good infrastructure, you need good footpaths, and you need good design. It's something that affects you at every level." It's even more heartening to know then that St Stephen's Steps is not just a top-notch design fix, but also cost-effective for the city — it cost about ₹52 lakhs, or as Abraham puts it, the price of a single mid-range BMW car. Over three years, and with a handful of hiccups, Bombay Greenway worked closely with the local corporator Asif Zakaria, the Brihanmumbai Municipal Corporation (BMC) and its contractors to bring this space to life.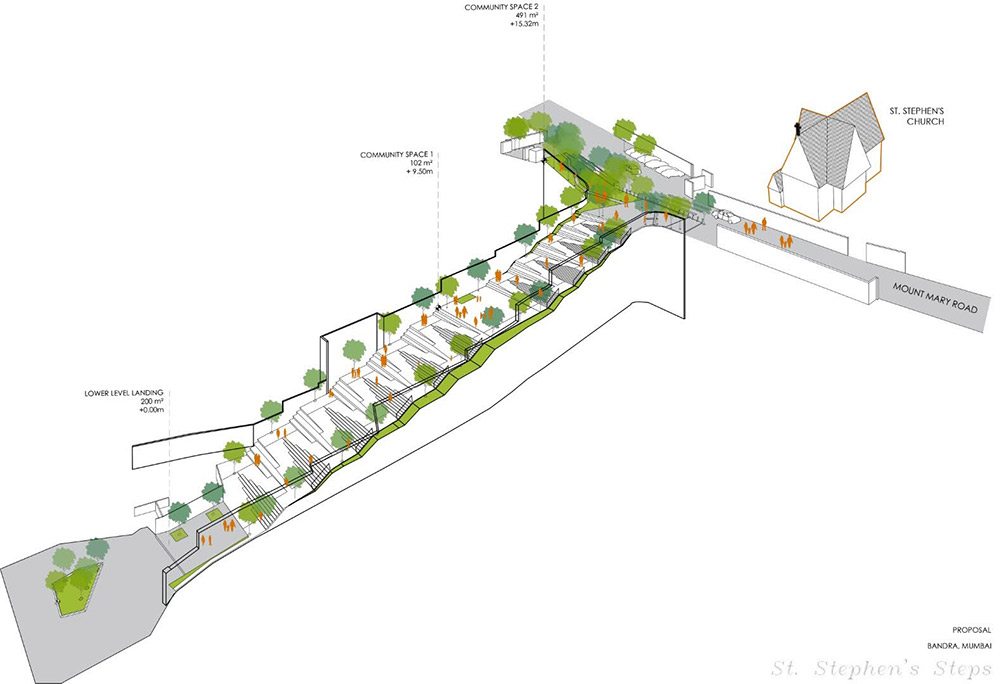 Today, the five-storey-high St Stephen's Steps is an inclusive, pedestrian-only space that's open round the clock. "The steps themselves are crisscrossed with a ramp," Abraham explains, "which allows access to a pram or a person in a wheelchair. It basically allows wheels to go up and down, so you have universal access through and through." The project also features three distinct spaces to encourage community gathering — "a completely open space in front of St Stephen's Church, which is accessible to all from the top without having to climb any steps. Then, we have a mid-level amphitheatre, and another square at the bottom (which is not 100 per cent complete)," he says. "If you've seen pictures, what you'll see people enjoying is only about 20 to 30 per cent of the [whole] space. It's huge — it's 100m long, 12m wide."
Last December, Bombay Greenway, Love Your Parks, Little Big City and Abraham John Architects hosted the Festival at the Steps to inaugurate the space. Over five weekends, there were art and craft workshops, live performances at the amphitheatre, photo exhibitions and film screenings. During the COVID-19 lockdown, the space has provided relief for many from being shut in at home, while also accommodating physical distancing. Abraham tells us how convenient it is for the elderly and those with disabilities — he heard of a person travelling with his frail father from Malad, about 20km away from Bandra, just so they could have a leisurely break out in the open, something city dwellers are sorely deprived of in Mumbai.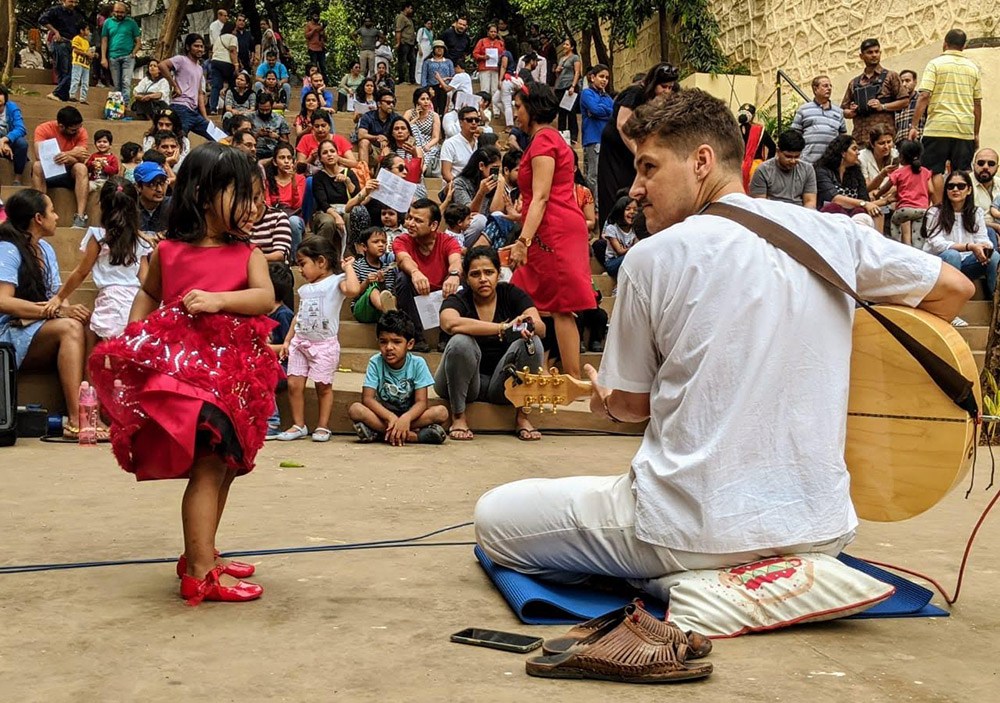 While Bombay Greenway has been working on urban design ideas over the last decade, the Steps is its first project to be fully realised. With Bombay Greenway, Abraham and team have devoted much time to infrastructure project proposals, designed keeping the public in mind and prioritising pedestrians and cyclists. "We want [these ideas to be] open for collaboration, and we're not charging anyone money for it. We're also not saying [that you should] do it only with us," he says. One of the concepts Bombay Greenway has put forward is for Juhu Beach, an iconic tourist spot in the city that's often dreaded for its traffic jams. The design proposes a 260m-long underpass instead of the current convoluted, 400m stretch of Juhu Tara Road, which in turn would create three acres of new beach and public space. (Watch the video here.) "We're trying to ensure that the idea is so simple and so clear that it is easily possible to implement." Abraham explains. "There's no reclamation and no land acquisition required."
But what you do need is for groups of people to come together. "Unfortunately, that's how it works. People have to approach the government for change," Abraham says, explaining how the government isn't inclined to offer solutions or fixes unless there's demand for it. After his experience with the Steps and other city projects, including those with Bandra Collective, a pro-bono architectural collective that he is also part of, Abraham says that the BMC isn't hard to work with. "It's just that they need some [guidance in terms of] design and they need to be pushed in the right direction, which is what we [as designers] should be doing — pushing people in the right direction."
This direction is towards functional, accessible spaces for all. "You've got to go beyond the perimeter of your building, beyond the perimeter of your space, to think about other people, and to think about public space," he says. This is the kind of sustainable change that we need more of, one that improves not only our streets and spaces, but also our lives.
Find St Stephen Step's on Google Maps here.