This story is part of Issue #1 of Big Little Things, a limited-edition magazine, produced and published by Paper Planes for UnLtd India, a launchpad for early-stage social entrepreneurs. Read more about this collaboration and UnLtd India here.
Bright lights and neon signs. Food courts and arcades. Escalators in glass buildings. The distinct luxurious scent of air-conditioning, the shuffling of feet, and the dings of the elevators. There's a lot that calls for your attention in a mall, right from the get-go. Do you want to visit a snow world? Do you want to just go window-shopping? Malls are where we hang out, play, watch movies, shop for groceries, shop for new, shiny things, sit down for fast food, and live out our urban lives. Some even have roller coasters for cheap thrills. These "cathedrals of consumption" — a term first coined by sociologist George Ritzer — come at us from every side.
The creation of the shopping mall, as we know it, is credited to Victor Gruen, an Austrian architect who was forced to flee his country for the United States in 1938. His Northland Center, a mall in Michigan that was built in '54 and shut shop a few years ago, is reportedly America's first-ever shopping mall. What Gruen wanted was to build a space that encouraged people to get out of their cars and walk around, much like "the ancient Greek Agora, the Medieval Market Place and our own Town Squares provided in the past," he writes in his book Shopping Town USA: The Planning of Shopping Centers. He intended for the mall to be accompanied by parks, schools, and apartments, so that it could function as a central social space. "Ironically, Gruen's design became the blueprint for the very opposite of his socially driven agenda: countless isolated and hermetic malls would be erected all over the country, their surroundings dominated by parking space," writes Janno Martens, a writer and student of architectural history, for Failed Architecture, an Amsterdam-based digital platform for critical urban discourse.
---
In India, shopping malls began to spring up after the economy opened up in '91. In '99, Mumbai got Crossroads, Delhi got Ansal Plaza. In the decades since, it's been an upward trajectory for these pleasure palaces, with the mall industry ballooning across the country. Ayaz Basrai, co-founder of The Busride Design Studio and the Busride Lab, which has designed showrooms and restaurants inside popular malls across the country, points to the large potential of these spaces. "You have captive audiences, you have footfalls — beyond the point of the security gate, you have a very democratic mix of people who are allowed to come inside a mall."
This sense of democracy, albeit for a certain upwardly mobile section of society, is perhaps what has made malls as popular as they are. "We have less than one square metre per person of open space [in Mumbai]," says Anca Florescu Abraham, co-founder of Love Your Parks, a city-based organisation that promotes collaboration and creativity in public open spaces, and an interior and landscape designer with Abraham John Architects. "Obviously people will go to the mall and use it as privatized public space."
But have we settled for less? Do we need better public spaces? Do we need better malls? The answer is a resounding yes. The Charles Correa–designed City Centre in Salt Lake, Kolkata, which opened in 2004, is a great example of what malls could be, says Basrai. "What's really interesting is how it breaks every single stereotype that you associate with a mall — there's no central atrium, for example, and you can enter and exit the mall at five or six different places. Most of it is outdoors and shaded. It feels unprogrammed, it doesn't feel like you're in this crazy blitz of advertising." And it's designed purposefully to be this way. Basrai explains how Correa was commissioned by Ambuja Realty, a "design-literate developer". This level of vision is what's needed to turn a retail extravaganza into a place that prioritises the community too. "City Centre's achieved a beautiful mix — each shop has its signage, but nothing's allowed on the front façade or on the public-facing walls," he says. "They have this really beautiful courtyard space in the middle, but there's no big neon board that faces into that space. It's lit like a park or a garden. You're not reminded about being surrounded by retail." It's this sort of sensitised approach that could be the solution.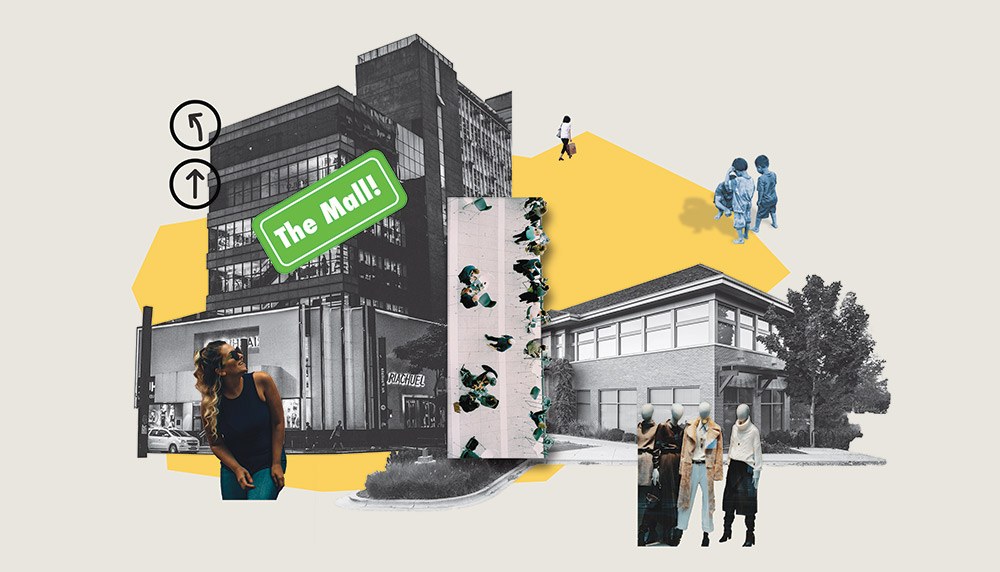 For Basrai, the initial euphoria that was created by a new mall has dissipated now, especially given the takeover of online shopping. Many malls have fallen into disuse over the years, and its these massive spaces that require serious rethinking and reprogramming. "Why is it that people would go there in the first place, especially when this particular demographic is okay with buying things online as well? Big real estate now has the chance of becoming something more meaningful," he explains.
Whether that is urban gardens or museum spaces inside malls, our cities are in need of more engaging community spaces. "People coming together and hanging out is one thing," says Basrai, "but people coming together for inspiration or to work together… those could become mandates that malls could refer to."
For the mall-goer, too, a balanced outlook is key. Abraham explains how the mall has become part of a sanitized bubble in which we live our lives. "It's like a parallel reality. Some people have stopped going outdoors." She refers to rising pollution levels and the consequent use of air filters in homes, in cars, and in schools, as the reason for this. But, as she puts it, "taking kids to the mall instead of an outdoor space is a crime."
---
Malls, with CCTVs in every corner, are also regarded as relatively safer public spaces. Rachana Johri, a professor at the School of Human Studies at Dr. BR Ambedkar University Delhi, likens it to a panopticon, where someone is always watching over you. Johri, who is a psychologist with an interest in gender studies, co-authored a paper titled Daily Border Crossings in 2014, which looked at the lives of women workers in malls, and their everyday navigation between contrasting spaces of class, caste and neighbourhood. She explains that cameras in malls can be reassuring — "people [are less likely to] be assaulted sexually, or be as abusive easily towards you, as they might be in other spaces." While the sense of security may not be a complete illusion, it is quite fleeting. Johri's research doesn't span this area, but she wagers, "for a customer, especially a woman or those of alternate sexualities, who comes from a relatively privileged group, it is an aspect of the city which is a little bit safer. You feel safer in the kind of clothes you're wearing, the loitering you can do without really being confronted… but you just have to step out and it's gone. It's very momentary." This elusive sense of security can also depend on the time of day. "For example, the mall at night — in a lift or in the parking lot, after the shops have closed — doesn't give me a sense of safety," Johri says.
According to a recent study, despite the sluggish economy and decreasing footfalls, Indian metropolises, along with Tier II and III cities like Ahmedabad, Lucknow, Indore, Surat, and Nagpur, are slated to have 100 spanking-new malls by 2022. This is around 49 million square feet across India. Are they going to be different from the giant glass-encased structures that loom over our streets today? Time will tell. But do we even need more malls? According to Abraham, we don't. "We need more open spaces," she says. "Malls are so unnatural to humans. We should be in the sun, we should be enjoying the breeze, enjoying the greenery, walking on grass — that's what people are meant to do." A life that's cut off from nature, with air-conditioning all day long, shuffling "from school to our cars to our homes to malls, and back again" is indeed scary. Is this our future?
Read more about Big Little Things here.