To sleep well, don't google the importance of sleeping well. There are a host of possibilities — from disease to disturbance — that arise from not packing in a well-rested eight hours. No wonder then that, across the globe, we've been making more room for sleep. In Japan, employees are offered restorative naps to combat the country's reported epidemic of sleeplessness. In New York, the price of a 45-minute nap is $25 (roughly ₹1,700) and comes with "beverages, comfy pj's, refreshing amenities, and a private space for resting and recharging". Closer home, at Terminal 3 in Delhi's Indira Gandhi International Airport, travellers are encouraged to catch some shut-eye in sleeping pods. Amid this sleep-focused landscape, a slew of young brands have popped up over the last few years, designing products with the sole aim of helping us sleep better.
Gone are the days of one-size-fits-all mattresses. Today, e-commerce brands like Sunday, Wink & Nod, Wakefit, and Flo have emerged to address a need for hi-tech sleep support and have made the old-school process of quick decisions at walk-in stores redundant. Each brand comes with a handful of incredibly focused offerings and with 100-day trials. Flo, for example, makes it easy to choose between its two mattresses — the 'Ergo' offers "softer, ergonomic support" while the 'Ortho' is best for those who prefer "harder, orthopedic support". These are mattresses designed for a conscious consumer — there's more transparency with production processes and materials, and in terms of design, muted colour tones replace garish flowery prints.
Pune-based Wink & Nod, which launched in 2017, currently offers four kinds of mattresses and three kinds of pillows. Sandeep Prasad, CEO and Founder of Wink & Nod and a former venture capital investor, puts this recent boom in start-ups in the sleep industry down to an overall increase in niche offerings, especially online. "In the last four-five years, the market has opened up, e-commerce has increased, and people are now taking risks to launch innovative products across all categories," he says. Besides, consumers have evolved too — they're making more money and have travelled so they have higher expectations. "Through social media, they are now aware of what's available internationally for home furnishings, clothes, or whatever they're using in the daily life. It's much easier to find customers [online] and it is incentive for brands like us to put money and develop new products," Prasad says.
For Alphonse Reddy, CEO and Founder of Sunday, sleep is a multi-billion-dollar market in India. Sunday has produced three mattresses and a range of accessories, all by Japanese designer Hiroko Shiratori. "With all the new homes coming up everywhere and an increased focus on good sleep, it is one of the fastest growing market in the consumer space," Reddy says. "However, [it] is heavily fragmented and unorganized. Branded mattresses contribute to only 20-25 per cent of the market."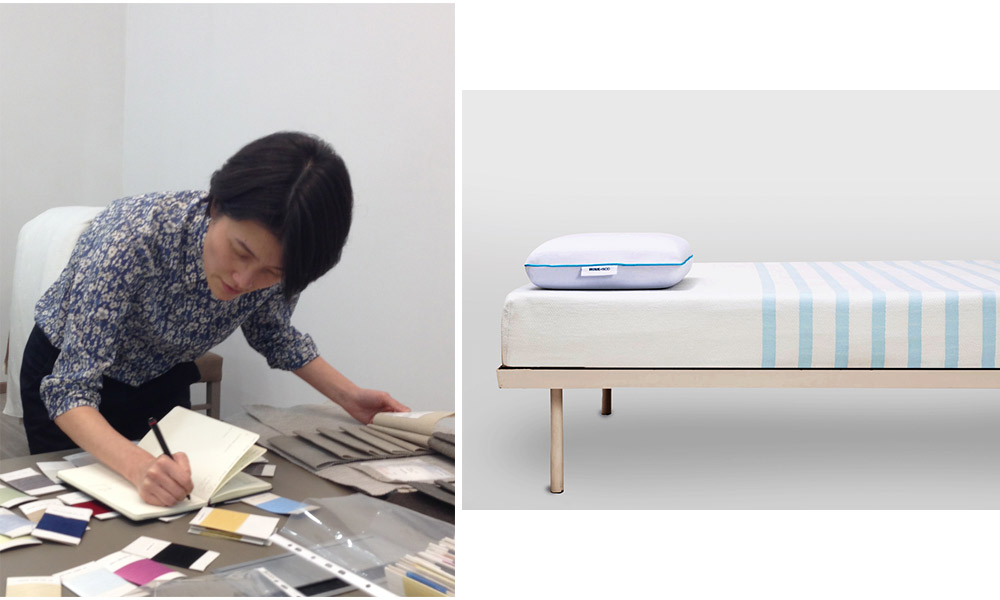 These brands are paying close attention to material — memory foam and latex feature predominantly in the mattresses, but don't be surprised to spot activated charcoal (to protect "from pollutants, toxins, and disease-carrying microbes") in your Wink & Nod pillow.
Wink & Nod's design strategy stemmed from the problems customers were facing. "About 50 per cent of our audience, between 25 and 45 years old, have back issues, and they're looking for products that will solve the issue," says Prasad. But he's honest — "A mattress is not going to solve [the problem] because those are caused by the way [people are] working or the way they're walking around and sitting at desks, which is a different issue." Still, comfort is key, and materials like memory foam and latex are good for back issues, he explains. Secondly, there was the issue of temperature and keeping the mattress cool for the Indian climate. "We have cool-gel crystals inside the memory foam. We also started using a bamboo fibre cover in one of our mattresses — bamboo fibre has holes in it that circulate air and gives you a feeling of coolness." The third problem was concerns about the toxic effects and chemicals of the foam. To counter this, the mattresses are made with cleaner materials, often certified by international programs like CertiPUR-US.
The number of mattress-in-a-box options in India are higher than ever before. How do you make a choice between it all? Do your research, recommends Prasad. "As an informed consumer, you should always look at multiple portals before you make a decision," he says. "There are a lot of new materials and it's important to understand them. Consider your needs and your budget, as well. But finally, as Reddy explains, "a mattress should support you in a way that keeps your head, shoulder, buttocks and heels in alignment and allows your spine to curve naturally."
Elsewhere, there's been significant research on products for the bedroom that promises a bright future. For instance, auto-maker Ford has proposed a lane-keeping bed that uses lane-keeping technology from its cars to nudge sleepers to stay on their side of the bed. American sleep giant Casper recently launched Glow, a smartphone-controlled ambient smart light. And relatedly, Facebook's Mark Zuckerberg designed a wooden "sleep box" that emits a faint light in the early morning for his wife.
In India, the evolution is well on its way. Everything that impacts your sleep space is up for grabs — bedroom furniture, ambient lights, and more. It's an industry that's growing rapidly, and with consumers more aware than ever before, it's an awakening that we have our eyes wide open for.