At first glance, the Landed Mothership may bring to mind the Transformers — but instead of swishy automobiles that turn into robotic superheroes, this is a coffee table, a firepit and a communal grill, all rolled into one metal-and-wood unit. It is one of many products from Borderline Studio's debut collection, The Martian Get Together, and the Landed Mothership is a good example of what to expect from the rest of the collection. The products, manufactured across India, look like they've all just landed from Mars. Or, in co-founder Anica Kochhar's words: "each product has crawled out of the Mothership to be part of The Martian Get Together".
"The idea behind Borderline Studio was to be at the cusp or border of things," says Kochhar, explaining that Borderline products seek to have an interesting dialogue between at least two conditions. "For instance, this could be the borderline between a product and an art piece, or the boundary between a heater and a chiller." The idea is evident in the brand's products, which are multi-functional and bear fascinating names — like The Bickering Couple (a set of edgy stainless planters) and The Condescending Bench (a chic love seat) — that convey a sense of humour and lightness. "The Martian Get Together started when the Mothership landed, and from it crawled out these interesting personalities you would typically encounter at a get-together," Kochhar explains.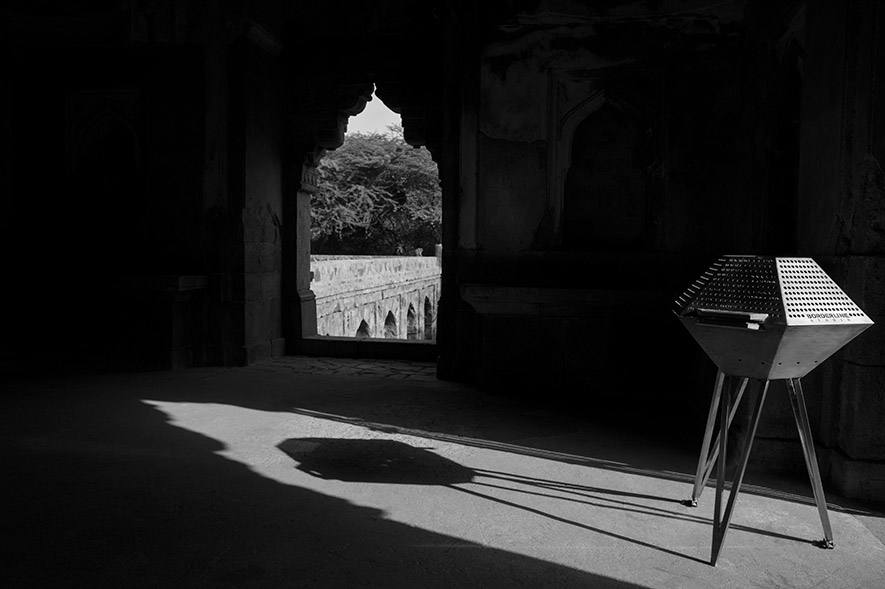 Kochhar is only one half of Borderline Studio; the other is Priyanka Singh. From childhood friends to co-founders, Kochhar and Singh's journey has been long and eventful. "Right from our boarding school days, Priyanka and I hit it off on the basketball court and in the art studio," Kochhar says. While Singh went on to become a graphic designer, Kochhar studied to be an architect. A decade and a half later, they met in New York, and spent two weeks visiting art fairs and being exposed to design in multiple forms. There, they found that their design sensibilities aligned, realised it was a good time to transcend their individual mediums, and decided to embark on a new adventure together.
"The [Landed] Mothership, production-wise, was a feat of engineering for us — not quite different from a real spaceship," Kochhar says. From a concept sketch made in the winter months because the two were looking for something stylish to burn fire in to experimenting with a variety of metals, figuring structural stability and eventually putting together all the elements, the piece took about four-five months to shape up. Manufacturing Borderline's elegant products takes a six-person core team, who, Kochhar explains, work in collaboration with other creators, depending on the product at hand. Every product, process-wise, is also at the "borderline" – they're all partly hand-made, partly machine-made. The ethos also extends to the choice of materials (wood and metal). While wood is a natural choice, metal facilitates the futuristic aesthetic. Metal can be fun to work with, but it's extremely unforgiving, says Kochhar, so the studio emphasises on the importance of precision and finish. "We love that metal allows an expression of bold geometry and wood acts as a complimentary material due to its natural softness. They balance each other out."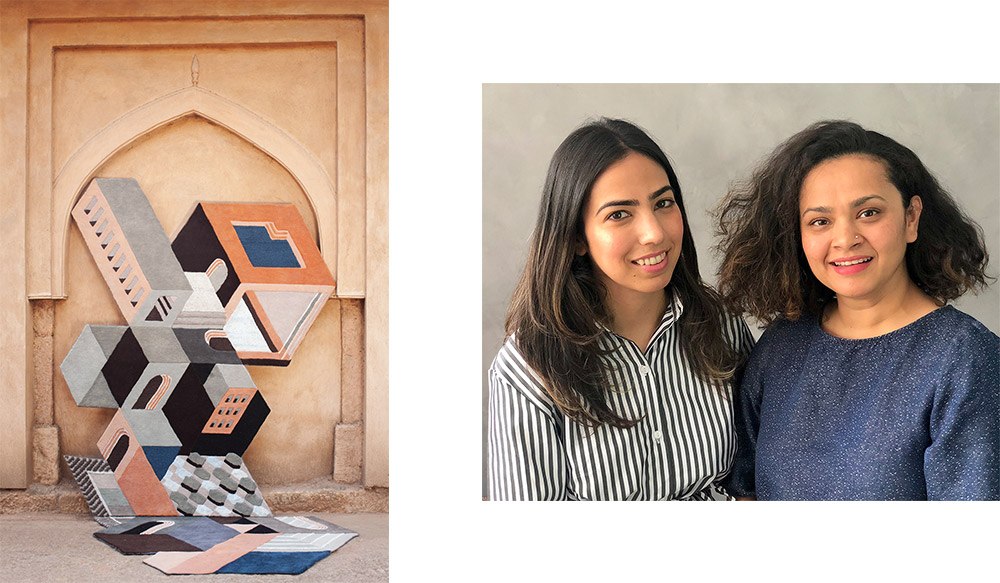 Kochhar and Singh added new items to their debut collection recently at India Design ID 2019. Some of the most striking pieces from the new set include a chiseled, stylish bar stool called Rager, and The Pathfinder, a rug that makes use of optical illusions and blurs the lines between art, object and functionality. Borderline's products, with their sharp, futuristic visual appeal, have at their heart a certain Indian-ness, which comes across in the choice of backdrop for their photo shoots too. The products have been juxtaposed against old ruins in Delhi — a deliberate portrayal of India's past merging with the future.
For Kochhar and Singh, who count Marcel Wanders, Patricia Urquiola, India Mahdavi and Manish Arora among their inspirations, the journey with Borderline involves creating a distinct identity for their products and their bold aesthetics. The studio may only be a year old but their Martian products' have been getting their due attention. When asked what's next on the design front for Borderline, Kochhar has an appropriate answer: "We want to exhaust our hexagon DNA before heading to the next planet for inspiration."
Products start from ₹1,999 for a tissue holder. See more here.