When the 21-day lockdown was declared across India, starting March 25, three members from the team of Maker's Asylum — a community space for designers and creators in Andheri, Mumbai — decided to stay at their workshop. Vaibhav Chhabra, Maker's Asylum's founder, along with managing partner Richa Shrivastava Chhabra, and space manager Narender Sharma hunkered down to think about how they could contribute during the coronavirus crisis. They quickly realised that they could make face shields. "We decided to use the laser cutting machine which we had [as opposed to a 3D printer that a lot of DIY blogs were recommending], so that we could look at something which was quicker and faster to make," explains Shrivastava Chhabra.
Face shields are personal protective equipment (PPE) devices, meant to be used by healthcare workers, interacting with COVID-19 patients, to protect themselves and their patients. The shields are meant to be worn with surgical masks and other protective gear, and work to protect the facial area from splashes, sprays, and splatter of body fluids. In early March, the World Health Organisation called for a 40 per cent increase in manufacturing of PPE to meet the rising global demand. In India, reports of PPE shortages continue to pour in.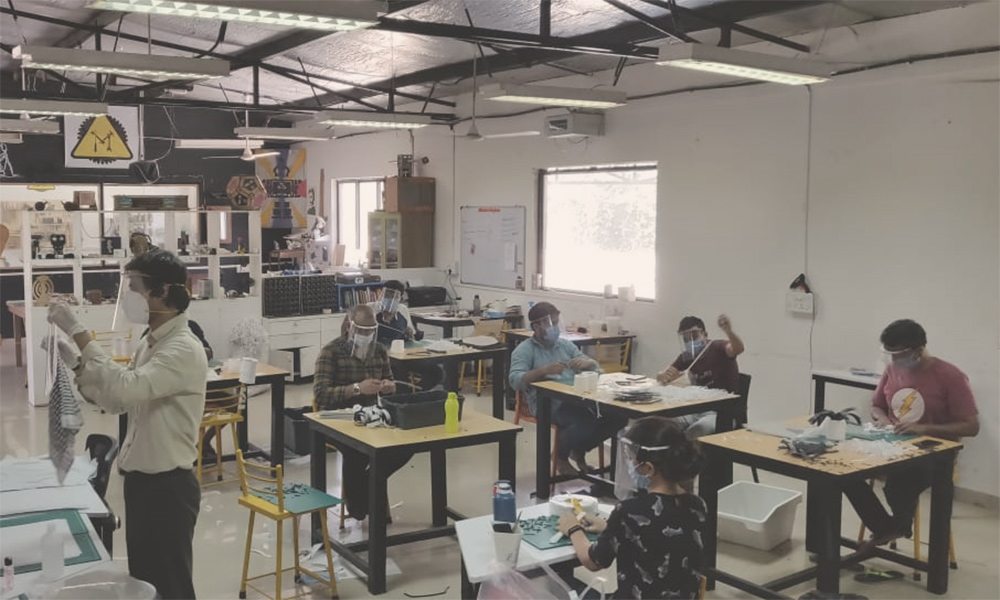 Free For All
"When we put out the first design on our social media, a lot of doctors and hospitals got in touch with us," says Shrivastava Chhabra. After more research, feedback from local doctors and almost 25 design iterations, they arrived at the current design. The shortage in the market was, of course, concerning, the other question was, "how do you create something which is really cheap, easy to make, and made for the local ecosystem?" The lack of logistical support during the lockdown played a huge part in the Maker's Asylum team making the design freely available for anyone who wanted to make the shields.
As an open-source community, it was natural that they upload their innovative design, complete with guidelines, on their website for anyone to use. At the time of writing, 15 makerspaces and labs across the country have been using this design to make M19 shields. These spaces are now part of the "M19 Collective", named after the shields by the Maker's Asylum team. "M as a tribute to the maker community and 19 as in COVID-19," Shrivastava Chhabra says. "It's Makers versus COVID-19."
In addition to hospitals, Maker's Asylum is also distributing the shields to sanitation workers, volunteers, and the Mumbai Police. This is because, other than protecting one's face, they also have the added advantage of deterring one from touching their face, one of the ways the virus is transmitted. Currently, the collective's goal is to make and distribute 1,00,000 shields across 12 cities, out of which they have currently shipped 62,049. The numbers are constantly being updated on Maker's Asylum's website.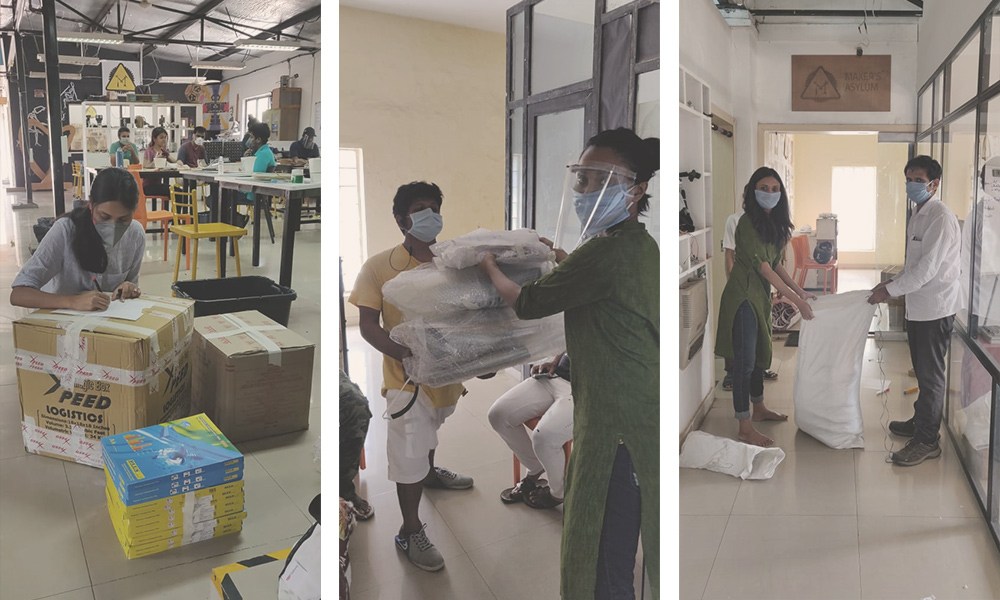 Design Details
One of the biggest benefits of isolating at their workspace, Shrivastava Chhabra says, was that they had an array of tools at their disposal. In terms of the design, the team opted to use a laser cutter because it quickens the process and, at this point, speed is of the essence. To make the headgear, they use a foam board which is non-porous and flexible, making it ideal for a comfortable design. As for the visor, they use transparent OHP sheets, which are flexible, as well as relatively easy to source. Of course, procuring these materials amid the lockdown isn't a cakewalk, since all non-essential businesses in the country are currently shut. "In the beginning, it was quite a challenge to get things opened up," says Shrivastava Chhabra. However, since the initiative is working towards arming essential workers, they've received support from the city police and now have permissions in place to source what they need. The team has also set up a fundraiser to raise capital for the materials.
Currently, at the Mumbai space, they have several volunteers helping out to make the shields. The main focus now is to understand the demand. Shrivastava Chhabra estimates, "in the near future, we believe that we're going to be looking at making anywhere between 2,00,000 to 5,00,000 [shields] because I think the demand is not stopping. We're also trying to scale up the technical part of it and make the process quicker."
Parallelly, the team is also working on designs for other healthcare products that might be needed to fight COVID-19, such as air-purifying respirators (known as PAPR, or powered, air-purifying respirator). It's only been a little over 10 days since Maker's Asylum started their work — and like so many other community-based enterprises stepping up around the world at this time, it's another hopeful example of what design can do.