In the winter in Delhi, Vogmasks are a common sight. Year after year, thick dense smog hangs over cityscapes across north India, and the hazardous air quality makes headlines. In this part of the country, one of the many contributors to the diminishing air quality is rice straw. This residue from harvesting rice, specifically in states like Haryana and Punjab, is burnt because it makes for poor animal feed and doesn't serve any other uses for local farmers. But now, a new collection from Swedish furniture giant IKEA is turning the residue into raw material.
Earlier this year, the brand joined the UN's Climate and Clean Air Coalition — a global effort that unites governments, civil society and the private sector to improve air quality and protect the climate in the next few decades by reducing short-lived climate pollutants. Increasingly, businesses and brands around the world are adopting a circular economy — wherein "'throwaway culture' is replaced by reduce, reuse, recycle and rethink, i.e. products are used several times, and materials are recycled in new products." IKEA, too, is on its way to being a 100 per cent circular business. Last year, as part of a larger drive towards sustainability, IKEA launched the 'Better Air Now' initiative to tackle global air pollution. The first result of this initiative can be seen in the brand's upcoming collection, Förändring, a word that means 'change' in Swedish.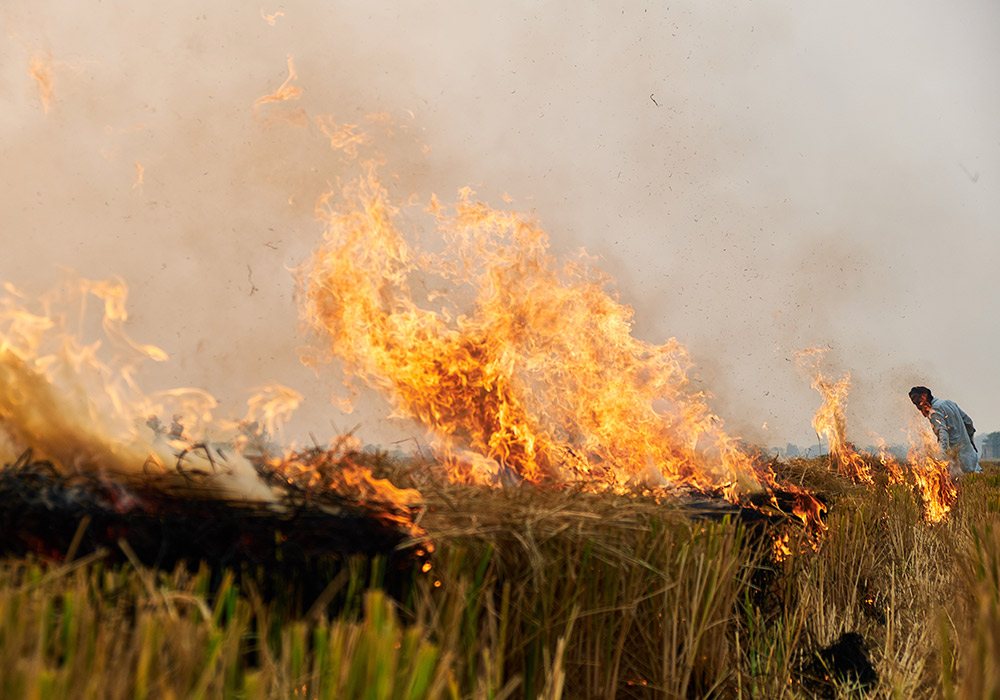 IKEA's Förändring is a homeware collection that includes lampshades, vessels, baskets, trays, storage and mats — all made from rice straw. Akanksha Deo and Iina Paulina Vuorivirta, IKEA's lead designers for the project, studied the material extensively, along with the suppliers on site, to understand how they could work with it. "The research process entailed learning about the material and its properties. How does [rice straw] behave when it's moulded, twisted, dyed, woven and mixed with other materials like cotton waste? It involved doing a lot of experiments to satisfy all the pillars of [IKEA's] Democratic Design," says Deo, IKEA's designer based in India. Vuorivirta, who hails from Finland, has worked extensively with natural fibres since she joined IKEA in 2015, but still rice straw was uncharted territory. "Seagrass as a material has a bit of a similar character to rice straw so there was at least something familiar for me to start building on," she writes in an email interview. "But apart from that, the process has been new, unexpected, surprising and eye-opening."
For this collection, the team identified three primary methods to work with: weaving, cording and moulding. While weaving was a known method for them, moulding and cording in rice straw was completely new. "We worked with cotton waste scraps in the moulding method and cotton warp in the weaving process," explains Deo. "These materials are incorporated in just the right amount to provide added durability and sturdiness to the product. It involved a lot of trial and error to reach a fine balance between the two materials."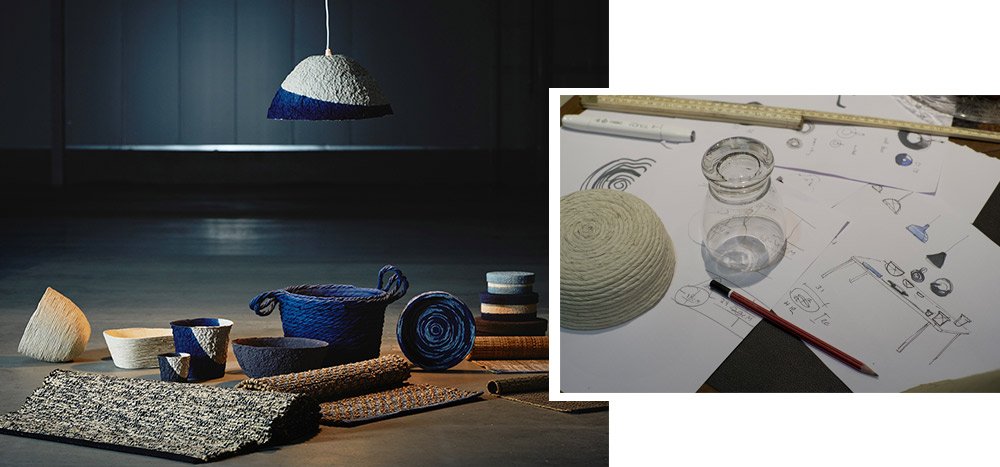 Some products like the rugs and mats are made entirely by hand, whereas products like the lampshades, vessels and baskets are partially machine-made when moulded or corded and partially handmade when dip dyed in the shade of blue. "What I loved in the [moulding] process was that the form in its wet state has a sculptural quality where you can further shape it. And then you hand-dip dye these forms into gradients of blue. It's almost like [producing] art pieces," Deo says. The team worked with reactive and Azo-free dyes — all organic, fittingly — choosing a palette with shades of black and blue for the collection. "We wanted to highlight the beauty of the bare material with a colour palette that is subtle and simple and yet contrasting enough," Vuorivirta explains. "Both Akanksha and I have an eternal love for blue so in this context we didn't hesitate to lift it up. The black details in the collection also refers to the burning process and the leftover ashes of the rice crops."
Helene Davidsson, IKEA's Sustainability Manager for South Asia, is the one championing the 'Better Air Now' initiative behind the scenes. "We are joining forces with others who are working to reduce air pollution from agricultural activities like open crop burning, in order to gain expertise and to share our pilot model for repurposing agricultural residues that can be scaled up and replicated by others in other regions and with other crops," she explains. For consumers, the idea is to make healthy and sustainable living a "choice that is affordable, attractive and accessible". Standards for sourcing of raw materials, Davidsson points out, are developed in accordance with various environmental, social and animal welfare criteria. It's all a step towards closing the loop. "We are committed to turning IKEA into a circular business by 2030 meaning that we will offer 100 per cent circular products and all materials used in IKEA products [will be] renewable or recycled," Davidsson says. "We know that there is no single solution to solve air pollution and we are always in search of new ways to contribute to a world of clean air — Better Air is one way."
At a time when large-scale initiatives and big changes need to be sweeping across the planet to prevent further damage, IKEA's ideology is a reassuring breath of fresh air.
Förändring is slated to be released across select IKEA markets later this year.
Jessica Jani was formerly part of the editorial team at Paper Planes. Find her on twitter at @_jesthetic.