2.5 million people have reportedly been employed in India's leather industry. Most of these are Muslims or Dalits. In the last few years — between the infamous beef ban, demonetization and new taxation rules — the industry has seen some major disruption. It's in this social climate then that Sudheer Rajbhar, a young artist decided to launch Chamar Studio.
"The Chamar idea is that anyone can set up a studio in their spaces — they can work from home, or if they have a small shop on the roadside or at a railway station, they can work from there," Rajbhar explains. Named after the Chamars, a dalit community known for their leather-making skills, the young design studio makes sleek bags out of recycled rubber tubes with the aim to place the power back in the hands of the artisans.
It all began because Rajbhar wanted to question the use of the word 'chamar' as a slur. As an art project a couple of years ago — before he launched Chamar Studio — Rajbhar screen-printed the word, in various languages, onto 40 cotton bags and placed them in public spaces. "I wanted to see how people would react," he says. While the audience in Mumbai didn't react as expected, Delhi and Allahabad proved more interactive. "People came up to me and had questions about the bag," he recalls.
Words like 'chamar' and 'bhar' — a caste that Rajbhar belongs to and which is categorized as Other Backward Classes (OBCs) — are often used to mock or abuse. It may not be as apparent in urban areas, but in the rural areas, violence against dalits still persists, he explains. "Even now, people aren't very aware about these issues, and that can be quite problematic." This is the change he hopes to bring about with Chamar Studio.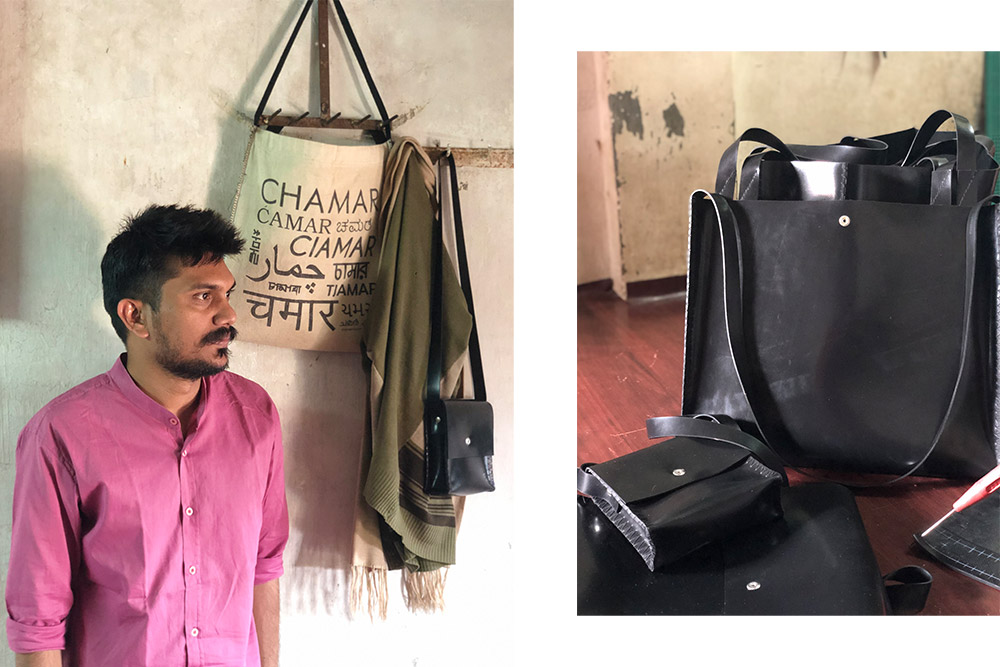 A catalyst for the formation of the studio was the 2015 beef ban in Maharashtra. "Leather became very expensive," he says. He'd already worked with rubber for another art project, and realised that the material could be adapted to make a good substitute for leather. "To produce the material, old rubber tubes from tyres are recycled and flattened. Between two of these layers, a thin, sturdy mat is placed, and then pressed by machines," he explains. "It's recycled, it's cheaper than leather, it's waterproof, and fire-resistant."
Currently, Rajbhar engages a handful of artisans — some live in Dharavi, others in slums across the city — who work part-time to make the black bags. "It's a simple funda: if the material can be cut and readied with buttons, then they just have to stitch it," he says. It's a simple stitch that streetside cobblers and leather artisans are already skilled with — another reason why Rajbhar would rather collaborate with these workers than do it himself. In the future, he hopes to work with cobblers at railway stations as well. He's also quick to point out that Chamar Studio is open to all, not just those who belong to the Chamar community.
How has the response been? "Good," Rajbhar says. "I'm working on reaching as many people as we can. But if it moves slowly, we won't be able to generate a lot of employment. We need to do this on a mass scale." He's also acutely aware for the need for extended conversation and is certain that the media coverage shouldn't just be for TRPs about dalit artisans. "It's important to know that the people who've been making these products haven't been documented in history and haven't profited off of it. It's important to talk about their identity. Where are they? Where are the artisans?"
Available at www.chamarstudio.com.