In our series, Job Perks, creators share little learnings, fun habits and other endearing peculiarities from their daily lives on the job.
Designer Aditi Chaddha Batra is the founder of Indus People, a design brand based in Gurgaon. Inspired by India's abundant nature — the confluence of rivers, the colours of cities — she crafts beautiful artefacts. Here, she explains how she married her new love for travel with her design to create the brand.
Travel has different meanings for everyone. For some, it's experiencing the unfamiliar, for others, it's learning something new — and for many others, it's a good break from their mundane lives and routines. For me, it's a lot of things.
Growing up in Mumbai, my family considered travel within India to mean an annual holiday to Goa, a weekend getaway to Lonavala — Mahabaleshwar, if we were stretching it — and the occasional yatra to Shirdi. I travelled to states other than Maharashtra and Goa only much later, thanks to college trips and outdoor shoots back when I worked as an art director at design agencies. With both college and work though, I didn't really get to see much.
So when I got married and moved to Gurgaon two years ago, I realised that the geographical scope of my weekend getaways had suddenly widened. Last year, my husband and I made a conscious decision to travel a lot more within India — to do trips that were shorter, but more frequent; to live in homestays instead of hotels; to focus on experiences, over just sightseeing. We ended up having conversations with locals and commissioning guides to take us around — and we really enjoyed it! We realised there's so much to India that we ignore or take for granted — and it's all lying in the details.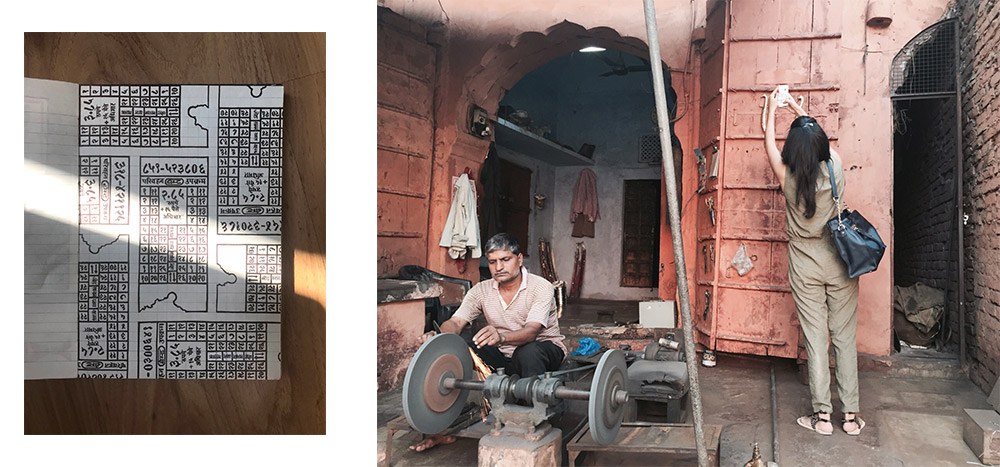 For instance, on a visit to Jaipur — a city that has influenced my design — I learnt why it's come to be known as the Pink City. Way back, when the Maharaja wanted to welcome Queen Victoria and the Prince of Wales, he got the city painted terracotta pink, our guide told us. Pink is a colour that's supposed to reflect warmth and respect, and be welcoming. The colour was liked so much that it was decided that they maintain it — which is why all the main buildings and the marketplaces are pink today, and which is how the city got its moniker.
My trips have always influenced my art — in fact, I often end up making sketches of signboards or other sights that I encounter. If I don't have the time to sit with my notebook and a ball pen, I take a picture and illustrate it later.
This love for travel, design and history is what sparked the idea of Indus People. On one such trip away from the city, I had a eureka moment. In retrospect, I suspect it's something I always wanted to do, but had just never realised. Now, I travel a lot more, and I travel back in time — unearthing stories of history, cities and design. And that is the biggest perk of my job!
Aditi Chaddha Batra was speaking to Fabiola Monteiro. This is an edited transcript of that conversation. For products made by Indus People, go here.