A young designer is working to turn toxic cigarette butts into desk items + other initiatives from around the world Walking in a city, if you happen to glance down, you're bound to be greeted by a universal sight: stubbed-out cigarette butts, in various stages of decay, line pavements and are often wedged between interlocking paver blocks. But it is more than just a sore sight. These remnants are essentially filters made out of a plastic fibre called cellulose acetate, which is said to take years, if not decades, to break down. Even as they decompose, their carcinogenic chemicals, pesticides and nicotine leach into the environment, contaminating the soil. Often, these butts are swept away via city drains and end up in rivers or seas, polluting the water and killing marine organisms. According to an article in the BBC, about 4.5 trillion butts are littered in a year globally, "making them the planet's most pervasive form of plastic pollution." As more and more people are starting to realise what a monumental problem this is, there have been more efforts to curb it. TerraCycle, founded in 2001 with headquarters in the USA's New Jersey, has found ways to recycle "typically non-recyclable" things like chewing gum, shampoo bottles and dirty diapers — but also cigarette butts. They collect all parts of extinguished cigarettes and related paraphernalia. Once collected, the cigarette filters and the packaging are separated by composition and melted into hard plastic that can be remoulded to make new recycled industrial products. The ash, any leftover tobacco, and other organic waste is turned into fertilizer. In Melbourne, Australia, Dr. Abbas Mohajerani, a professor at the city's RMIT University, has been researching ways to recycle cigarette butts since 2005. In 2016, he published a practical proposal to recycle cigarette butts into fired-clay bricks. The following year, he published some of the results from his study on how cigarette butts can be used to make roads. Closer home, Code Enterprises LLP, a Noida-based start-up has been collecting and recycling cigarette butts to make products like cushions and toys since 2016. Karnataka-based Karma Tips offers an alternative, sustainable approach with its 100 per cent biodegradable filter tips, in-built with plant seeds — which means that when the hand-rolled cigarette butt is tossed away, it's likely to grow into a plant.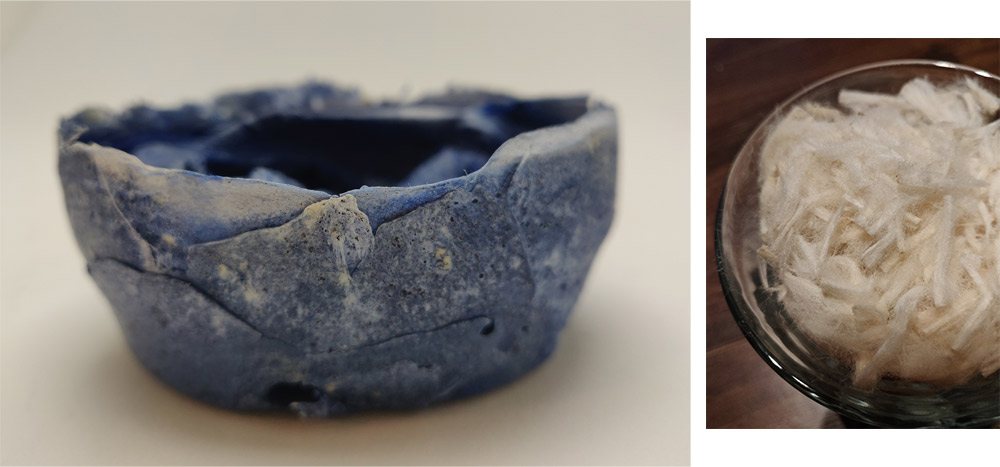 21-year-old Sachi Tungare is working to create everyday objects like desk organisers (left) from cleaned out cigarette filters (right). All photos courtesy Sachi Tungare. It's these sort of efforts that have struck a chord with designer Sachi Tungare. An industrial design student at the Srishti Institute of Art, Design and Technology, Bangalore, the 21-year-old is just back from a six-month-long exchange semester at the Design Academy Eindhoven in the Netherlands. As part of her course titled 'Man and Well-being', Tungare had to work around the broad theme of "city centres in today's world," she tells us in a phone interview. For her project, she chose to do a material research study on recycling cigarette butts. "The only city centre I had at hand was Eindhoven city centre and the one thing that stood out to me the most was the [littered] cigarette butts. It's a universal problem that we see [in India] as well," she says. Tungare's goal was to extend the life cycle of a cigarette butt by turning it into something which can be used multiple times. Her research began by collecting about 4,000 littered stubs from Eindhoven's streets — attracting strange looks from curious onlookers and pats on the back from elderly citizens. These inevitably stirred up an unbearable stink until she cleaned them by extracting the material — cellulose acetate — from the paper-based wrappers and then shredded and soaked it in enzyme-based bleach overnight. After drying the cleaned material, she set about exploring and experimenting — "freezing it, boiling it, casting it" — to discover the ways in which she could work with it.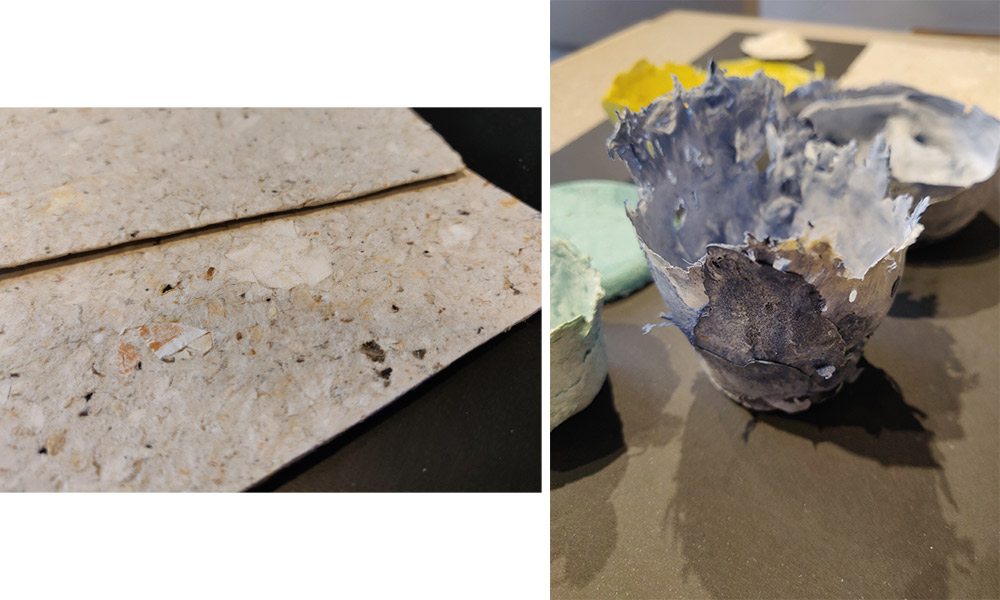 Tungare's paper (left) is made entirely out of cigarette butts, while adding acetone impacted the consistency of the material to create this sort of penholder, among other products (right). All photos courtesy Sachi Tungare. Her R & D led to producing paper from the outer wrapping and inner material of the cigarette butt. By dissolving the fibres in acetone, she realised she could also cast it to make desk organisers, penholders, vases and lampshades. Another successful outcome was thread, made by mixing the cellulose acetate fibres with cotton fibres. One of the favourites (among Tungare's university professors) was a delicate film-like paper. "It looked really pretty, which was the strange part because [you know] it's such a toxic substance and yet it has a strange delicateness to it," she says. All the products were dyed with acrylic paints and watercolours, and are aesthetically appealing, a factor that was important for her. "That's what you need," she says, "you need to bring out the appeal [in] trash in order to make people use something like that." There's still a long way to go — for Tungare as well as for a sustainable solution to the disposal of cigarette butts. Collecting and recycling the stubs is a long and strenuous process, one that Mission Green Mumbai knows first-hand. Earlier this year, the city-based NGO launched an initiative called #DonateYourButts to collect cigarette butts in the city with the intention of recycling them. They conducted beach clean-up drives and installed ash trays for stub collection at various malls around the city, but due to a shortage of manpower and resources, the founder Subhajit Mukherjee tells us, the initiative has now been put on hold. While there aren't concrete measures — ideally by tobacco companies themselves — for tackling toxic cigarette waste, it's innovations and initiatives like these that could leave a mark in the long run. Fresh out of college, Jessica Jani is a writer at Paper Planes. She enjoys reading books, about books, and the scores of magazines she now has access to thanks to our amazing library. Find her on Instagram as @jesthetic_.